1 Apple Cinnamon Crunch sweet bowl + 4 ingredients
Makes 6 Servings / Baked Apples
PREP TIME: 20 minutes • COOK/BAKE TIME: 45 minutes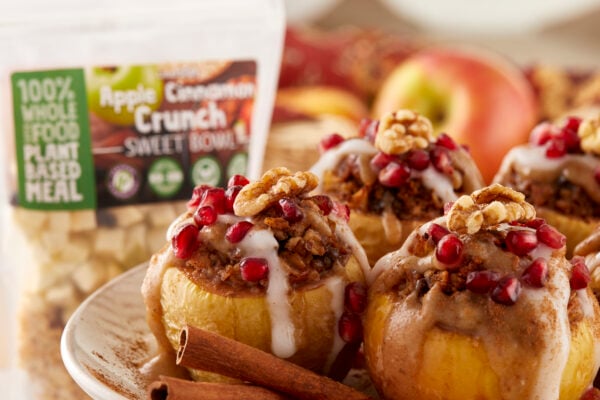 Amplify the fabulous flavor of fall's favorite fruit 🍎🍏 with this luscious, comforting, and easy to prepare autumnal classic. 🍂
The deliciously sweet combination of tender, juicy apples paired with caramelly dates & warm Ceylon cinnamon is so sweet and decadent, you & yours won't believe there's no added sugar! This beautifully healthy dessert is perfect for pampering yourself on a cool & cozy afternoon, or for serving on a holiday platter to wow your family & friends. 🤩🎉
Antioxidant & fiber-rich apples help lower the risk of many chronic conditions like diabetes, heart disease, and cancer. These round jewels also promote brain 🧠 & gut microbiome health! So enjoy abundant apples now & throughout the holiday season to satisfy your sweet tooth and benefit from top notch nutrition!
PRO TIP: Use an apple corer tool, especially if you're not well-practiced with a paring knife.  A $6-$12 stainless steel apple corer makes any kind of apple dish ridiculously easy and quick, and safer too.
Ingredients
1 LeafSide Apple Cinnamon Crunch sweet bowl
6 medium apples (recommend Honeycrisp)
12 heaping teaspoons date paste (dates & water)
Plant based yogurt as desired (recommend unsweetened vanilla)
Ceylon cinnamon as desired
Bonus Recipes
Recommended Brands
Tools Needed:
Oven, food processor, foil, parchment paper, apple corer or knife
Directions:
Prepare a LeafSide Apple Cinnamon Crunch meal as directed on the package, & set aside
Preheat oven to 375 and core 6 medium apples; use an apple corer for ease & speed
Prepare date paste: add 12 dates to food processor with enough water to not quite cover them; blend to a paste consistency (add more dates if too thin; add more water if too thick).
Place apples on parchment paper in glass baking dish and fill the bottom of each with 1 teaspoon of date paste; add a heaping 1/4 cup of Apple Cinnamon Crunch to fill remainder of core
Cover dish loosely with foil and bake for 45 minutes
Remove foil & plate, adding date paste to the top of each apple (recommend drizzling more across all apples for presentation), along with a drizzle of plant based yogurt & a dusting of Ceylon cinnamon to taste
*Other suggested toppings: dried cranberries, pomegranate arils, raisins, pecans, walnuts, pumpkin seeds, unsalted almond butter, unsweetened coconut flakes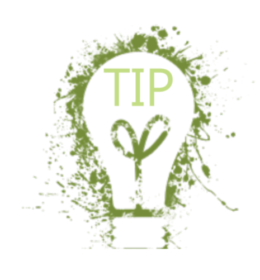 For best presentation, we recommend drizzling more date paste across all apples and topping with pomegranate seeds, and walnuts.
Treat Yourself to a Date
Pssst, want a guilt-free sweetener? In fact, it's actually good for you, so you can eat it to your heart's content — literally! That's the wrinkly beauty of dates: they're one of nature's sweetest foods, with high whole-plants sugar content that can taste like sunkissed caramel.
Yet like other whole, unprocessed green-light foods, they only bring health benefits, with one study seeing no blood sugar spikes nor weight gain while eating almost a quarter pound per day for a month, proving that sugars are not created equal.
Dates in particular also bring at least 15 different minerals, high fiber for your microbiome, essential vitamins, and plenty of antioxidants. No wonder some researchers have called it "an ideal food!"
Reference: https://nutritionfacts.org/video/are-dates-good-for-you/