Orange Vanilla Cinnamon French Toast
Orange Vanilla Cinnamon French Toast
1 Vanilla Cinn-sation smoothie + 6 ingredients
Makes 6-8 Servings
PREP TIME: 30 minutes • COOK TIME: 30 minutes
WHEAT FREE | SOY FREE
Download Printable recipe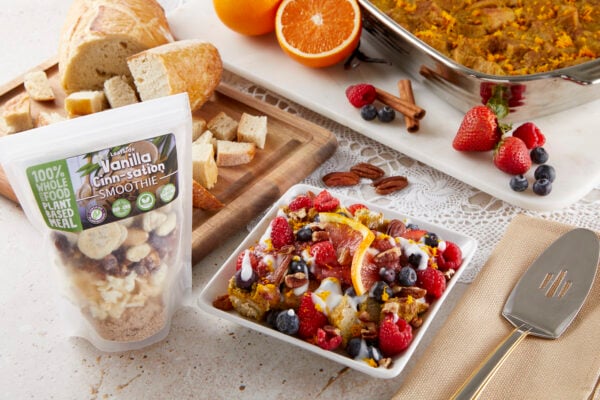 Share this meal with your loved ones, and they'll be amazed that you delighted their taste buds with a sweet treat that includes cancer-fighting cauliflower! This baked goodie also features brain-boosting pecans, iron-rich raisins, disease-fighting dates, and a warm, aromatic spice mixture. Cherish everyone's smiles as they choose their favorite toppings and tell you how much they love this terrific toast!

Ingredients
1 LeafSide Vanilla Cinn-sation smoothie
1 (14oz.) loaf bread (should be stale when ready to use; recommend something with sourdough)
2 cups plant milk (recommend unsweetened vanilla or plain almond)
1/2 lb (8oz.) extra firm tofu
1 tsp. orange peel
1/4 tsp. turmeric
Ceylon Cinnamon, as desired
Bonus Recipes
Tools Needed:
High speed blender
with 64oz min. carafe (800+ watts)
9X13 BAKING dish
oven
Directions:
Cut bread into large cubes & put into a 9 x 13 baking dish.

Drain tofu and squeeze out excess water (cut in half if using 1 lb container).

Pour LeafSide's Vanilla Cinn-sation smoothie into a blender, but use plant milk (instead of water) & add tofu, orange peel, and turmeric. Blend until smooth.

Cover bread in baking dish with all of the batter; mix until well-coated. 

Sprinkle top with cinnamon. Let sit for 10 minutes & preheat oven to 375.

Bake uncovered for 30 minutes; top should be crispy.
Serve topped with any of the following suggestions: fruit, nuts, date paste, chia seed jam(bonus recipe), plant-based unsweetened yogurt, nut butter, apple butter, pumpkin butter, cacao nibs.
The Other Cinnamon
Cinnamon is one of nature's gifts, with a delicious and inviting scent and satisfying taste, that like other herbs and spices, delivers very high amounts of antioxidants too.
There's just one catch: the most common form of cinnamon in the US is cassia cinnamon that contains coumarin, a substance that in high amounts, can damage the liver. So be sure to get Ceylon cinnamon that doesn't deliver coumarin, only the good stuff. At LeafSide we only use Ceylon cinnamon, and only the tastiest organic forms we can find.
Reference: https://nutritionfacts.org/topics/cinnamon/