Spiced Pumpkin Pie Smoothie
Spiced Pumpkin Pie Smoothie
1 Vanilla Cinn-sation smoothie + 5 ingredients
Makes 2 Servings
PREP TIME: 5 minutes • COOK TIME: 0 minutes
WHEAT FREE | SOY FREE
Download Printable recipe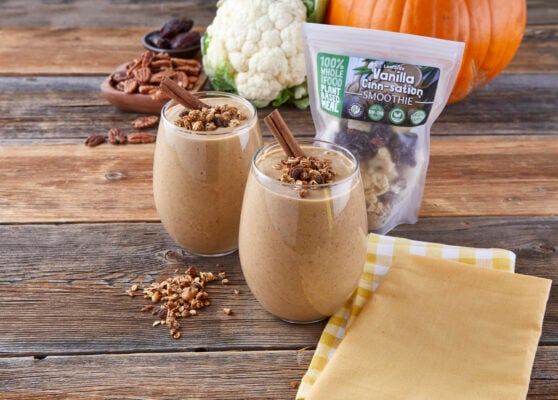 Enjoy the mildly sweet & spiced flavors of fall any time of the year thanks to this wholesome smoothie! How can a meal that tastes like pie be good for you? Rest assured that each sip of this perfectly rich pumpkin concoction is chock-full of vitamins and minerals. Indulge to energize your day and glow from the inside out!

Ingredients
1 LeafSide Vanilla Cinn-sation smoothie
4 cups plant milk (recommend unsweetened almond/coconut blend)
1 cup pumpkin puree
1 frozen banana
1 tsp. pumpkin pie spice
2 tbsp. date paste (bonus recipe)
Bonus Recipes
Tools Needed:
High speed blender
with 64oz min. carafe (800+ watts)
Directions:
Pour LeafSide's Vanilla Cinn-sation smoothie into a blender; add plant milk (instead of water).
Add pumpkin, banana, pumpkin pie spice, date paste & blend thoroughly.
Other suggested additions: dates, walnuts, pecans, cinnamon, vanilla.
Optional: top with homemade granola(bonus recipe) & drink with wide straw
Hello Gourd-geous
Squashes like pumpkins boast many health benefits, e.g. the bright orange color indicates carotenoid-rich phytonutrients, including the powerful antioxidant beta-carotene, needed by highly active organs like our brain and eyes, to quench continuous oxidation processes therein. Squashes are high in fiber and micronutrients (vitamins, minerals) as well, especially their seeds; science is actively discovering their other benefits, but don't wait to partake of this food!
Reference: https://www.ncbi.nlm.nih.gov/pmc/articles/PMC6766813/