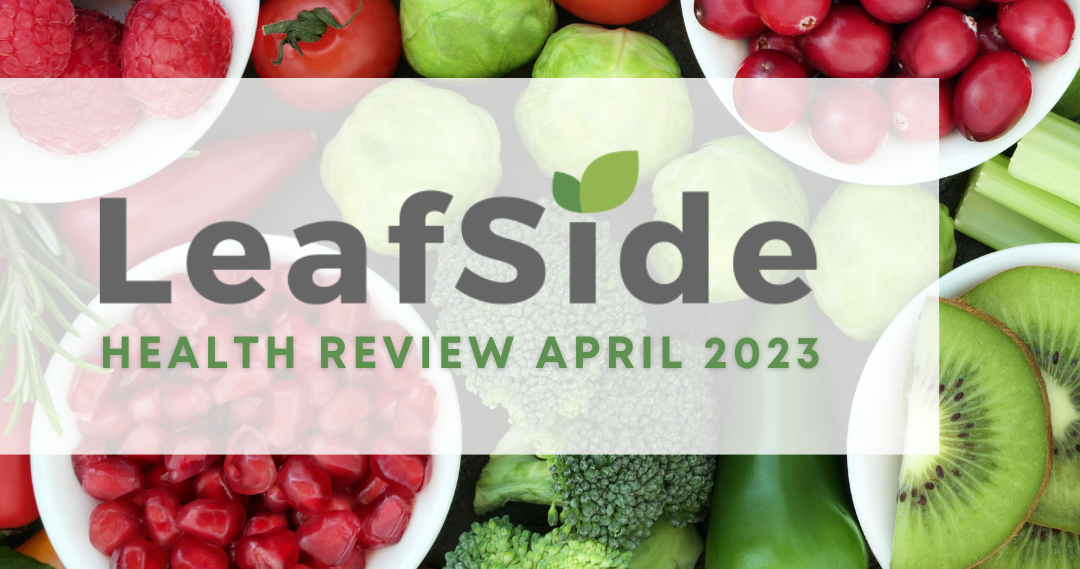 With spring underway, it's high time to bring you another LeafSide Health Review! 🩺 From our health & wellness focused staff, we're sharing and highlighting the most interesting and useful info we find, in plant-based nutrition and health/wellness science. ☀️🌸🌱
Here we're reviewing our healthy, worth-knowing discoveries from the first quarter of 2023. Let's enjoy some quality nerdy nutrition & health science, maybe with a good WFPB meal 😋 — and share some excitement over new, life-boosting developments!
Unpacking Project Blueprint: the All-In Anti-Aging & Longevity Experiment
What does it take to not just slow, but reverse aging?!
Serial entrepreneur Bryan Johnson is conducting a public and extreme experiment — on himself — to find out. ⏰
Johnson launched Project Blueprint in 2021 in an attempt to prove that self-destructive diet and lifestyle habits leading to disease and premature aging "are not inevitable." 🍔🍟
After his success founding the software company Braintree/Venmo, Bryan is using his extensive resources to monitor hundreds of health biomarkers 🔬 around weight, body fat, muscle mass, blood glucose, and sleep quality (and a host list of others) — and continuously adjusting his meticulous diet and lifestyle routines accordingly.
Johnson, who is currently 45 in conventional chronological age, reports that Project Blueprint's has, in 2 years:
Slowed his biological pace of aging by the equivalent of 31 years ⏳
Improved his physical fitness to that of an 18 year old 💪
Lowered his levels of inflammation to 66% less than a 10-year-old
Helped him achieve perfect sleep quality  
Reduced over 100 biomarkers to below (more youthful than) what's usual for his chronological age
What does this "Blueprint" look like?
Project Blueprint stems from Johnson's idea of "automating" lifestyle decisions like what to eat, how to exercise, and how to get a good night's sleep, per evidence-based science. For his daily pattern, that looks like:
Eating exactly 1,977 calories per day of a whole vegan diet that emphasizes foods like lentils, cruciferous veggies, berries, mushrooms, and nuts 🍓🥜🥬 designed around "scientific evidence for optimal nutrition"
Fasting for 16 to 18 hours per day 🕦
Maintaining a consistent sleep routine with one hour of downtime before bed, every day 🛌🏻
Following a daily one-hour, 25-exercise regimen that combines strength training, HIIT, calisthenics, conditioning, and stretching 🏃🏻‍♂️🏋🏻‍♀️
Taking over 100 supplement pills per day 🤯
It's a regimen that, along with its numerous anti-aging treatments and routine medical tests, costs about $2 million per year — and at times is a full-time job!
You can see the blueprint in action on his YouTube channel:
Developing Your Own "Blueprint" (The Easy Way)
Johnson is quick to emphasize that his Blueprint isn't the standard for everyone. He's more like an explorer, uncovering potentially useful information that can help the rest of us make healthier choices. 🥗
The easiest place to start? Identifying what Johnson calls "your 20% rascal" — the unhealthy diet or lifestyle habit you struggle with most. 🦹‍♂️ Focus on conquering this habit first as a stepping stone to bigger lifestyle changes. 🦸‍♀️
Some other takeaways for developing your own blueprint:
Eat a moderate amount of calories appropriate for your size, age, and activity level 🥙
Incorporate moderate-to-vigorous exercise into your daily routine 🚴🏻‍♂️
Develop and stick to a consistent sleep schedule that includes screen-free downtime 😴
Center your diet around whole and minimally processed plant foods (Dr. Greger's daily dozen makes this easy!) 🍏
Include cruciferous veggies 🥦 in at least one meal per day
Use anti-inflammatory spices and seasonings like ginger and turmeric 🔥🚫
How Can Athletes Benefit from Plant-Based Diets?
Speaking of diet and lifestyle, why are so many athletes going plant based? 🥬
In early 2023, Dr. Greger shared his review of the current science behind plant-based eating for athletic performance, in a series of three informative videos. 👟🎽
Check out the highlights from each one.
Athletes don't just get "perceived" performance benefits from plant-based diets! Studies show that eating plants can:
Improve blood flow, reduce oxidative stress, and combat inflammation to improve endurance and support recovery 🚴🏻‍♀️
Increase glycogen stores to provide more fuel for long workouts 🏋🏻‍♂️
Increase intake of natural nitrates, compounds that may enhance athletic performance 💪🏻
Reduce the risk of chronic diseases like heart disease — for which endurance athletes may be at higher risk ❤️🩺
---
Typical Western diets heavy in meat and dairy are acid-forming, but plants create a more alkaline environment in the body. 🧪🌱 How might this help athletes?
Boosts performance and endurance 🚀
Speeds up the removal of acid from muscle cells to enable endurance athletes to train or compete for longer 🚵🏻‍♂️
Improves performance by as much as 21% 📈  — but only if enough plants are eaten, meaning six to eight cups of veggies and 4+ servings of fruit in this study! 🍅🥬🥕
---
Most studies on diets and athletic performance show no difference in endurance or strength in vegetarian and vegan athletes compared to omnivores.🤔 But these are mostly short-term studies. 😒
In the long term, going plant-based may increase VO2 Max, a measure of aerobic capacity that impacts energy production during intense activity. 💨
In other words, plant-based athletes (or average plant-loving gym-goers!) could squeeze a few more minutes out of intense sessions. Burnout round, anyone? 🥵
A Plant-Based Approach to Preventing (and Surviving!) Cancer
Genes only cause about 5% of cancer cases.  🧬 The other 95% come from DNA mutations caused by environment, lifestyle, and (you guessed it) diet! 🍴
Lifestyle changes, including eating a whole food plant-based diet, may be able to prevent up to 50% of cancers. 👏🏻 And the same approach may help cancer survivors live longer.
No wonder the American Institute for Cancer Research, the World Cancer Research Fund, the American Cancer Society, and the European Code Against Cancer recommend diets that:
Increase the intake of fruits, vegetables, beans, lentils, and whole grains 🎑🥕
Limit fast food, processed food, red meat, soda, and alcohol 🚫🥤
Dr. Greger digs into the science to show why it works (both videos are well worth watching!):
The best part about all this evidence? It shows that good health is achievable with simple changes — like enjoying more plant-based food. 🥗
LeafSide takes the time and toil out of top-standard whole vegan, plant-based eating — so that YOU can create your own "blueprint" for health in just minutes per day. ⌚ Discover delicious new favorites to support your journey to lifelong thriving. 😎
Thank You!  🙌
Thank you for being on the LeafSide, and for choosing food that makes a difference — for you and yours, for the animals, and for our one planet Earth. 🌻 🌎
Please feel free to contact us at any time with your questions or feedback; it's with your help that we're making the plant-based revolution happen!